After setting up Locations and Forecast Settings, follow these steps to view your Executive Summary.
What is an Executive Summary?
We've taken our threat matrix and compressed it so you can see all your assets in one place simultaneously. At a glance, you will quickly identify assets that may require focus in the following days. The temporal resolution in this report is customization and explained below.
If you hover over a yellow or red box, a dialog box will show you which weather parameter(s) is triggering the yellow or red threat level. All triggers are customization through the Forecast Settings.
First
Start by selecting Executive Summary in the Main Menu.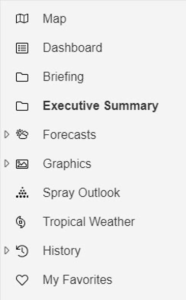 Settings
You can change how many days the summary shows, at what intervals the summary is produced at and adding the time in UTC to the table.

Tips
Click on the name of the asset in order to bring up the hourly forecasts and see a more detailed forecast for that location.
Category: Next Steps