After setting up Locations, follow these steps to set up alerts. A short video tutorial is shown above.
First
Start by selecting Alerts in the Settings menu (upper right corner).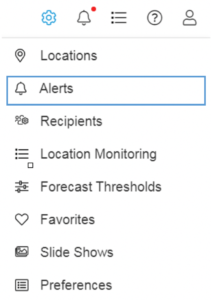 Select Location
Now, select a location from the list. Setting up locations is covered here.

Select Alert Criteria
Go through the available alerts and select which ones you would like to receive for the selected location.
Use the ALL ALERTS button to turn on all the alerts under the selected category or go through each sub-category and turn on specific alerts.
Popular alert criteria include:
Lightning
Weather Bulletins
WeatherOps Alerts
Tips
This does not set up the distribution of these alerts via email or SMS. To have a user receive these alerts click here.
Add an Action Message with each alert by clicking on the icon in the right column.
Choose Clone to in the upper right to copy alert criteria to other locations.
WeatherOps alerts are available in the Platinum service. Contact your Customer Success Manager to learn more about this premium alert type.
See alerts by clicking the View Alerts icon in the upper right.

Category: Getting Started